Hi! I'm Cecilia Ticsay. I'm glad you're here. You might've arrived here because you saw one of my posts, or a friend shared a post, in Facebook or Instagram, you will learn more about me and my passions here on my web site. I want to thank you for joining me on this journey to honoring God with our bodies physically, mentally, and spiritually.
I'm a cancer survivor and a health nut. Fighting cancer has given me a passion and a dedication to encouraging and equipping individuals to be healthy physically, mentally and spiritually.
Read more about my passions: Nutrition, Fitness and Running…
---
NUTRITION
I received my training from the Institute for Integrative Nutrition, where I was trained in more than one hundred dietary theories and studied a variety of practical lifestyle coaching methods.
Drawing on this knowledge, I will help you create a completely personalized "roadmap to health" that suits your unique body, lifestyle, preferences, and goals.
Whether you are tired of "dieting" or tried everything to be healthier without results, I am here for you. I am also here for the fitness enthusiast who has already learned how to incorporate exercise into their daily lifestyle but may need some guidance on nutrition or getting faster. I am here for men and women of all fitness levels to help you find and maintain YOUR "want to" mindset that is crucial to making lasting lifestyle changes.
I believe God has given each of us our bodies to use to carry out His purpose. So through authentic relationships and accountability, I will create an atmosphere where you can unite to help one another succeed in reaching their health & fitness goals, while developing a healthy lifestyle that honors God.
Learn more about my unique approach to health coaching.
Are you curious about how health coaching can help you? Let's talk. Schedule an initial consultation with me today.
---
FITNESS
After home schooling our 3 sons I got to a place in my life "What now"? I know what I was passionate about but I didn't know how to get there. I want more for my family, but how, I have been an at-home mom for 20+ years.
One morning I was trying to think of a way that I could contribute to my family & start a business that involved health and fitness since that was my passion. I have completed numerous full & half marathons since fighting cancer in 2002. God restored my health so I deeply want to help others with their health and fitness. I have been involved with helping other to cross the finish line themselves as assistant coach to Team in Training for several years and I was a coach for USA Fit for a few years. I even qualified for the Boston Marathon and have had the privilege of running it two years in a row.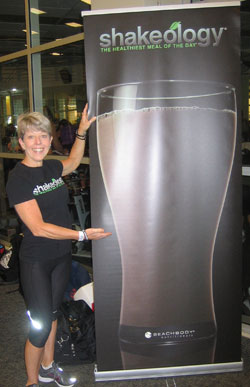 I was introduced to Shakeology and Beachbody and loved the idea of using their fitness programs that incorporate elemnts of cardio, strength, flexibility and core training for a total body workout AND nutrition products to help others live a healthier life. Each program comes with the fitness dvd's (soon to be digital) and a nutritional guide to help you get the best results possible.
Beachbody has brands that are high quality products that creates a continuous flow of new customers and retail orders that allow the average person with little to no experience to be successful.
I'm always looking for someone who is tired of where they are physically and/or financially. I will work DIRECTLY with you to give you the company's step-by-step system on creating a full time income. Are you that person? Do you want a better life for you and your family?
If you've answered, "Yes" to the above questions, then you may be who I am looking for. You can be on your way to fulfilling your life's dreams by joining my team now!
---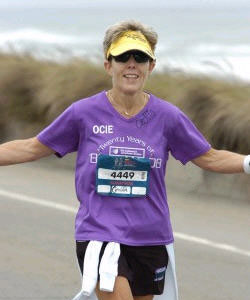 RUNNING
I started running in 2002 and have completed several marathons, half-marathons, 10Ks and 5Ks in my life, including the Boston Marathon, Chicago Marathon, several Rock 'n Roll marathons, and other races in San Diego, San Francisco, St. George, UT, Sacramento, and more! I've been a running coach, a cross-country coach and even worked in a running store, which I loved. I combine my knowledge of nutrition and exercise to help you be the best runner you can be.
I would love to help you with your upcoming race, select the right shoes, guide you to a regular exercise program to strengthen you, or help you with your nutrition and hydration. Whether you're a novice or a seasoned veteran, let me help you with your running needs. Contact me today!
---
Thanks for visiting my web site.
Cecilia Ticsay