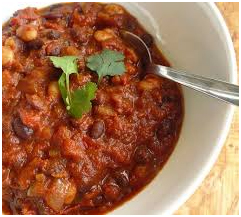 Chipotle & 3 Bean Chili Wit Kale
Serves: 8
Ingredients:
1 dried chipotle pepper (or ancho)
1 red, 1 yellow and 1 green bell pepper, diced
1 yellow onion, diced
1 bunch kale, stems & leaves finely chopped (separately)
2-4 cloves garlic, chopped
28oz can fire roasted crushed tomatoes
1 can (15oz) each: black beans, kidney beans, pinto beans
2 Tbs chili powder (read ingredients and avoid blends with added sugar, salt, MSG, and other unnecessary fillers)
Directions:
Bring 3 cups water to a boil. Remove from heat and place dried chipotle pepper in hot water and allow to re-hydrate.
Place a large soup pot on the stovetop over medium-high heat. Add 1 teaspoon olive oil, chopped bell peppers, onion, garlic, kale stems and leaves, and cook for 10 minutes stirring occasionally.
Remove and discard seeds and stem from the rehydrated chipotle (option to reserve a few seeds as desired for added heat). Place chipotle in a blender with the boiling water and blend until smooth, adding seeds as desired (do so gradually and taste for heat before adding to chili — a few seeds can add a lot of heat!). Add pureed chipotle and water to sautéed veggies.
Add 28-ounce can of fire roasted diced tomatoes, 2 tablespoons chili powder and 3 cans of rinsed and drained beans. Bring to a boil then lower heat to low-medium, stirring occasionally and adding water or broth as needed. Continue to cook for 30 minutes, up to 1 hour.
Season to taste with additional chili powder, salt and pepper. Enjoy! Note: Leftover chili freezes well.