We all know the challenge of eating healthy during the holidays. Well, here are some easy creative Shakeology recipes to help you with your healthy eating.
Are you looking for healthy ways to stay on track this holiday season and haven't tried Shakeology yet? You have then come to the right place.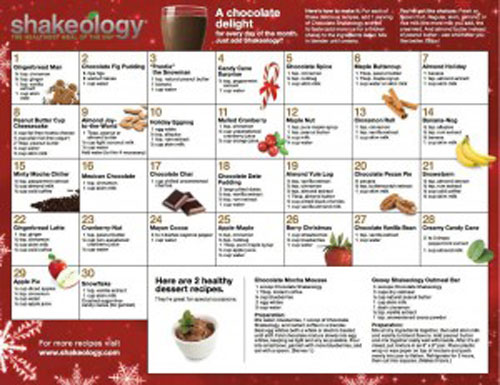 Shakeology is a great way to lower your daily calorie intake in order to balance out those holiday meals and treats you may enjoy from time to time. It is packed with over 70 Natural Ingredients to give your body what it needs for optimum health and only 140 calories. Shakeology makes it easy with tasty recipes like Gingerbread Latte, Minty Mocha Chiller, and Chocolate Pecan Pie! It is also known to help with sugar cravings and that means you will find yourself staying away from those Christmas desserts!
30-Day Money Back Guarantee
If you don't start to see and feel the benefits of Shakeology within the first month of using it, or if you're not 100% satisfied for any reason, just return it within 30 days for a full refund of the purchase price, less s&h—guaranteed. That's our promise to you. Order Home Direct and get free shipping!
[button link="https://extranet.securefreedom.com/MillionDollarBody/csShopping/ShoppingCart_Detail.asp?PriceID=78723&Cat=Nutrition%20and%20Supplements|Best%20Sellers&AddToCart=" type="icon" newwindow="yes"] BUY NOW![/button]