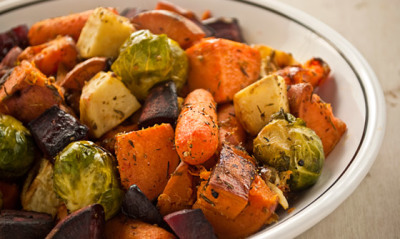 Fall is my favorite time of year and to have the oven on is a treat. So I wanted to share with you a recipe for Fall Roasted Veggies.
⅓ cup olive oil
3-4 medium carrots, cut into 1-inch thick pieces
1½ cups brussel sprouts, halved
1 cup beets, cut into thick pieces
1-2 onions, cut into thick pieces
1 cup sweet potatoes, cut into 1½-inch thick pieces
2 Tablespoons Balsamic vinegar (more if you like)
1 teaspoon dried oregano
1 teaspoon dried basil
1 teaspoon parsley
Sea salt and pepper to taste
1. Preheat oven to 400 degees.
2. Depending on how much veggies you have, you may need to divide them into 2 baking dishes or cookie sheets so the are evenly layered. Pour olive oil and balsamic vinegar over veggies and mix well to coat all.
3. Mix herbs together then sprinkle over veggies. Toss gently to coat.
4. Bake for 45-50 minutes at 400 degrees. Toss veggies half way into cooking.
ENJOY!!!