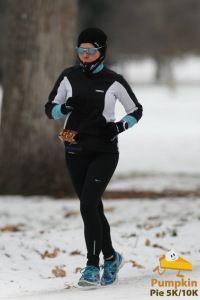 Being a Southern California girl most of my adult life and moving to much colder climate has been an adjustment. I have never ran in the snow nor when the weather is in the 20's so I am learning what to wear for winter running. Here is my list of what I have learned so far on how to stay warm and what is essential.
My Shoes: I learned this one the tough way by running a 10k in 18 degrees. It's wasn't the cold that I was concerned with, it was the ice. What I found is my regular Brooks PureFlow are not the best choice since I skated more than I actually ran. So immediately after the race, I got some YakTrak Run Straps and man they made a huge difference. I thought they would be bulky since they are attached to my regular running shoes but to my surprise they weren't at all. If it's not icy but there is snow, I found trail shoes to work well. Otherwise the roads have been pretty clear near me so I'm happy I can wear my PureFlow for most of my runs.
My Socks: I have always worn very thin no show socks. Well, after my run and noticing it took a long time to get feeling back in by toes I knew it was time to try new socks. I found a blend with some wool in it works nicely. I did have to get used to them being a little thicker which was ok. I still got no show since I'm so short that my tights are always too long so my ankles weren't exposed.
My Tights: As comfy as the fleece lined tights are, I found I get too warm wearing them. So I have stuck with my Nike DryFit tights. I didn't notice that the pair that has ventilation doesn't work especially if its windy. I haven't found any other brands that fit me as well as my Nike.
My layers: First layer is a running tank that has a support bra built into it. Then the 1/2 zip long sleeved tech shirt that I can unzip partially as I begin to warm up. I find that a windbreaker type jacket isn't warm enough so I like wear a waterproof and windproof jacket works best. It's keeps me warm and dry which is essential in these low temperatures.
My Hat: I personally prefer a headband that covers my ears over a hat or beanie. I get too warm with my head covered especially if its a heavy knit type beanie so I like the lightweight tech material that absorbs any sweat otherwise I get cold when that breeze comes.
My Gloves: This one is probably my biggest challenge. The gloves I wore in Cali are just not doing the job here. Most of my gloves let too much air in so my fingers go numb. I'm going to try a couple different pairs of mitten that are designed for runners. If you have a favorite pair, I'de love to know about it.
My Face: This will also be my next purchase, something to keep my face warm but not fog up my sunglasses. A bandana or neck guard haven't worked too well for me. I need to see about a face protector like we used to wear skiing but it has to have vents for breathing so my glasses stay clear.
We are all so different when it comes to handling the cold weather. There are many factors to consider like how far are you running, do you tolerate the cold very well, or are you a fast runner, so what works for me may be different than what may work for you. The best way to find out is to simply try it.
What do you like to wear to keep warm while running?
Happy Running and Be Healthy!