This is one of my favorite recipes for these cold mornings. I have 1 serving with half the amount of pumpkin seeds and berries,that morning and save the other serving for another day within that week. Enjoy!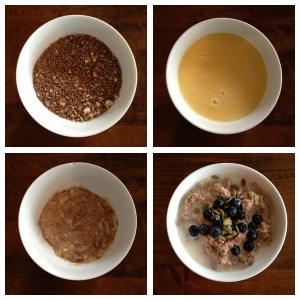 Ingredients:
1/4 cup raw unsalted almonds
1/4 cup raw unsalted walnuts
1 teaspoon ground allspice
2 Tablespoons ground flaxseed
3 eggs
1/2 banana, mashed
1/4 cup unsweetened almond milk
1 Tablespoon almond butter
2 teaspoons pumpkin seeds
1 handful fresh berries
Directions:
Using a food processor, grind the almonds, walnuts allspice and flaxseeds into a course grain (not a powder). Set aside.
Whisk until thick like a custard the almond milk and eggs. Add mashed banana and almond milk. Mix well. Add nut mixture, mixing well.
Over low heat in a saucepan add mixture, stirring frequently, until the thickness you like. Sprinkle the pumpkin seeds and fresh berries, if you want and serve.
Serves 2