There are so many uses for cauliflower other than the same old steamed soggy way. This is one of our favorite and it was years before by boys knew it wasn't "rice".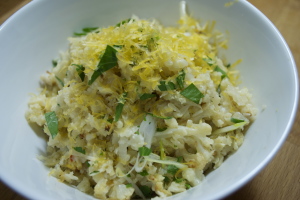 Ingredients:
1 large head cauliflower, chopped into florets, Discard the leaves and thick core.
1 15-oz BPA-free can unsalted cannellini beans, rinsed and drained
1 cup low salt chicken or vegetable broth
Olive oil cooking spray
8 oz cremini mushrooms, sliced
3 garlic cloves, minced
1 yellow onion, chopped
1/3 cup fresh flat-leaf parsley, chopped
1/4 tsp. fresh ground black pepper
1/4 tsp. sea salt
2 Tbs. fresh lemon juice
1.5 oz Romano cheese (about 1/3 cup) divided
Directions:
Add 1/3 of the cauliflower to a food processor and blend 15 seconds or until it looks like pieces of rice. Transfer to a bowl, repeating with the remaining cauliflower until you get about 6 cups.
Add beans and broth to a blender and blend until smooth.
Over medium low heat, spray saucepan with cooking spray. Add onion and mushrooms and cook for 5 minutes or until soft, liquid has evaporated and lightly browned. Add salt, pepper, garlic and cook 1 minute more. Increase heat to medium-high and add lemon juice. Cook and stir until liquid evaporates, about 1 minute or so.
Pour into saucepan the bean-broth mixture. Add cauliflower (6 cups) stirring well. Reduce heat to medium cover and cook 8-10 minutes, occasionally stirring until cauliflower is tender.
Reduce heat to low and uncover. Stirring in 3/4 oz. cheese and parsley, turn off heat. Sprinkle remaining cheese on top.
ENJOY!!