For a lot of us, an elegant sit-down family dinner means serving the chicken without the bucket. Having to work until 5:00 or 6:00 at night and then having to come home and whip up something your children will eat that won't get you reported to the Department of Children and Family Services can be a challenge for anyone. Then after the cooking, the serving, and potentially the force-feeding, you get to spend the rest of the evening doing the dishes and cleaning your kitchen so you can do it all again tomorrow. They never show that part on Martha Stewart. No wonder you have the pizza place on speed-dial. But it's possible to eat both quickly and healthily. Here are a few ideas for getting something nutritious on the table in a hurry, and the best part? Only one pot to clean!

(And for single people, invest in some airtight containers, freeze your leftovers, and be a slave to Lean Cuisine® no more!)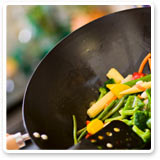 1. Get to wok. Instead of summoning the deliverymen with the greasy white boxes, try making your own stir-fry feast. You can cut out most of the extra fat, corn syrup, MSG, and salt your takeout place so kindly provides, and if you can enlist some prep help with the chopping, it takes only minutes to cook, and even less time to clean!
Heat enough olive, peanut, or sesame oil to keep food from sticking to the wok. Go easy—you shouldn't need more than a couple of tablespoons, max.
When the oil's hot, add sliced meat or tofu with some crushed ginger and/or garlic.
When the meat is cooked through, add your favorite chopped veggies, like carrots, celery, cabbage, onions, snow peas, or scallions (you can chop the veggies while the meat's cooking).
Add a dash of low-sodium soy sauce or tamari or a little orange juice to make a sauce and serve!
If you're not watching your carbs, you might also want to steam up some brown or wild rice in the microwave by placing 1 cup dry rice, 2 cups hot water or stock, 1 teaspoon butter or oil, and a little salt and freshly ground black pepper in a covered glass dish (large enough to hold the rice after it expands) and nuking it for 5 minutes on high, stirring it, and nuking it 15 minutes on medium. Let it stand for a minute or two, then don't forget to fluff it up with a fork before you serve it. The next day, you can stir-fry the extra rice with any meat and vegetables you might have left over. And if you scramble an egg into the mix, you've got healthy fried rice—increasing your meal output impressively for virtually the same amount of effort.
Shortcut: Many grocery stores sell mixes of stir-fry vegetables already chopped and combined in their produce or frozen foods sections. They won't be quite as delicious as freshly chopped, but as long as they don't have any extra ingredients you don't want (like sauce or salt), they're just as healthy.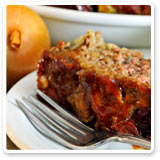 2. Loafing after work. The humble meatloaf. Most of us remember this classic treat from our childhood. It was usually an alchemic combination of ground beef, bread crumbs, ketchup, and whole eggs. Delicious? Yes. Nutritious? Not so much. Much of the deliciousness came from the beef fat soaking the bread crumbs and combining with the egg yolks to give us a couple of days' worth of saturated fat in one serving. Then there's all the extra salt and corn syrup the ketchup brings to the party. But it doesn't have to be this way—a healthy 'loaf can be made without all that fat that's still flavorful and still maintains enough structural integrity to be repurposed as a sandwich filling the next day.
Use extra-lean ground beef, or either ground turkey breast or extra-lean ground turkey. Check the label to be sure it's extra-lean—if it just says "ground turkey," it can have 15 percent or more fat, and what's the point of that?
Next, add some vegetables to the mix. You can add chopped or grated carrots, celery, onions, bell peppers, parsnips—whatever you like. Just watch the amounts of juicier veggies like tomatoes, which can turn your loaf something resembling soup, just less appetizing. The amount of vegetables should be proportional to the meat. (This is also a great way of slipping veggies to the picky eaters in your family.)
Instead of adding bread crumbs, try a handful of rolled oats. You'll get more fiber and they won't absorb fat the way bread crumbs will (not that there's all that much to absorb with this revamped approach to the 'loaf).
Add a couple of egg whites, which, along with the oats' gluten, will provide enough "glue" to hold the 'loaf together. Also add any fresh herbs, garlic, or other seasonings you enjoy. Mush it all together and shape into the familiar 'loaf form beloved throughout history.
Most meatloaf recipes bake in a 350-degrees-ish oven for an hour or so and call for the 'loaf to sit for at least 15 minutes to cool, letting the ingredients take time to cohere and giving the flavors time to marry fully.
Also, not so good at separating eggs? Most grocery stores sell cartons of egg whites on their own. Or you can use egg substitutes, like Egg Beaters®. In addition to being healthier, they're also more convenient. No cracking, scrambling, or getting hands and bowls dirty. It may only save a couple of minutes, but those are minutes better devoted to serious loafing!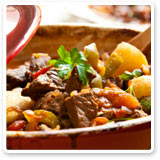 3. Stew in your own juices. Stew. Or as I like to call it, my vegetables' last stop before Garbagetown. You're cooking and cleaning out your refrigerator—now that's multitasking! You can call it stew, goulash, gumbo, cassoulet, ratatouille, cioppino, or ragout, but most importantly, you can call it dinner.
Put a big pot on the stove. Put a little olive oil in the bottom, and when it heats, brown some raw meat, poultry, fish (best if it's not too flaky or delicate), or tofu. (If you're using leftover or precooked meat, just throw it in with the vegetables, and ignore this and the next step.)
Put the cooked protein aside, drain the fat, and then deglaze the pot with a little red or white wine.
Next pay a visit to the vegetable morgue, also known as the crisper drawer, and add to the pot whatever looks like it won't make it through the night (some garlic and onions are always good too—even if they're not at death's door). Root vegetables are traditional favorites here: carrots, turnips, parsnips, and potatoes are all great ingredients for a hearty stew. Smaller ones can be scrubbed, trimmed, and cooked whole; otherwise cut them into 1- or 2-inch chunks.
Once the veggies have softened and relinquished their juices, add the meat back to the pot, add some low-sodium chicken, vegetable, or beef broth and/or some no-salt tomato sauce, and cook on low heat until it reaches the desired consistency (about 15 to 20 minutes).
If you're short on time after work, this could be thrown together in a Crock-Pot® or slow cooker in the morning, and when you return home, dinner's ready!
Shortcut: Most supermarkets' meat departments sell precut cubes of meat or fish, all wrapped up and ready to go. Also, it's always good to have a couple of favorite staple vegetables in the freezer or a can or two of beans on hand to throw into the pot.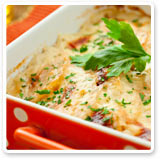 4. The casserole—a pan and a plan. How would the cream-of-anything soup industry stay in business without casseroles? Not to mention the canned-french-fried onion companies. Casseroles, in and of themselves, don't have to be bad for you. They start out with meat and vegetables, which are usually pretty healthy. It's the improvisations that usually get our diets in trouble.
To begin with, choose lean meats. Sausage-and-whatever casseroles are usually yummy because the other ingredients soak up all the artery-clogging fat from the sausage. Using lean meat or poultry will help keep it healthy from the get-go.
Also, keep the vegetable-to-meat ratio fairly high. Imagine what a serving of a casserole would look like spread out on a plate in its component parts. You probably wouldn't consider a pound of meat and a Brussels sprout a well-balanced meal. Try to keep the meat to about 4 ounces per serving and fill the rest of the pan with fiber-rich, filling, healthy vegetables (not just potatoes).
For sauces, try to avoid cheese and anything that begins with "cream of," as well as actual cream itself. Canned soups, a casserole staple, usually rely heavily on sodium for flavor. You can do much better by using a low-sodium broth, which you can whisk together with some nonfat powdered milk and corn starch to make a faux cream sauce.
If you like pasta in your casserole, try using a whole-grain variety.
And instead of adding french-fried onions, how about thinly sliced almonds to provide a little crunch?
Shortcut: Most casseroles can be assembled a day ahead of time, so if you're anticipating a late day at the office, you can make the casserole the night before, and just pop it into the oven the next day. That overnight bonding time you give your ingredients will make the casserole that much tastier.
By Joe Wilkes