If you're looking for a Shakeology Sample, you've come to the right place.
I've been using Shakeology for 6 months now, and it's gotten to the point where I can't go a day without it! Yeah, it's official, I'm addicted to the stuff!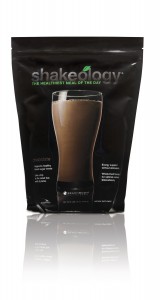 It's actually quite an interesting story about how I did eventually tired Shakeology. I was heading to the gym I was a member at and ran into one of my neighbors. She began to tell me about the incredible shake. That same morning before I left, I looked up the Beachbody website to find a fitness program to give me the push I needed since I train for marathons. I knew nothing about Shakeology so I was very skeptical with all the "stuff" that's out on the market. I got a sample and when I got back home I tried it. I was instantly interested. I have to be completely honest here. My main reservation was the price which scared me to death. I went ahead and joined all the while thinking I would try it out for a month knowing there was the 30 day money-back guarantee. I also wanted to see what kind of results I would get. During that month I felt healthier overall and got the push I needed. I have gone home direct from that month on.
Since I was getting great results with Shakeology, I talked to family and friends about it. I have many family members and friends drinking it on a regular basis. My husband has lost 20 lbs since he has been drinking it for lunch which is a bonus for us.
Most people want to try Shakeology, but are hesitant because of the price, as I was at first and already mentioned. However, if you use it as it's supposed to be used, as a meal replacement, it justifies the cost. For example, my husband would go out to eat every day for lunch, spending anywhere from $6-$10 on something that he wasn't sure was healthy or not. Now, he is drinking Shakeology for lunch, which comes to about $4 per serving per day, so we are actually saving money. It makes complete sense! I actually just had my Shakeology a few minutes ago and I'll be full for a good 2-3 hours.
If you want to try Shakeology, and are SERIOUS about purchasing some for yourself if you like the taste, I will send you a free Shakeology sample (chocolate), but ONLY if I'm your coach. If I'm not your coach and you want to make me your coach, click here. Please be fair with me, because it does cost me about $5 per sample to send out. Before I send your free sample, I have to verify that I am your coach. So, please make sure you're serious about purchasing it. If I'm already your coach, send me an email with your name and address to cmt@ticsay.com.
If you would like to purchase Shakeology now, click below!
I highly recommed that when order, you go "Home Direct". This will save you the $10 shipping cost.