With school started and we are all trying our best to get on a schedule here are some easy and quick breakfast ideas for you and your kids. Breakfast is truly the most important meal of the day. It will boost your metabolism and sharpen your awareness. Let's get our kids off to a great start this school year.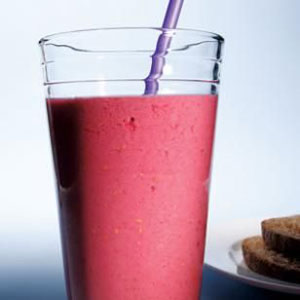 Smoothie
This is one of our favorites since it is so easy. It is a great source for antioxidents and lots of healthy carbs.
1 cup fresh or frozen strawberries or any berry
31/2 cup low-fat plain yogurt
1/2 cup orange juice
1 Tbs toasted wheat germ
1 scoop whey protein (see note)
1 Tbs honey
1/2 tsp vanilla extract
ice
Place all ingredients in blender and blend until smooth adding ice if desired. Put in shaker cup and go. As for the whey protein, I use only the highest grade of isolate whey protein which you can buy at www.teambeachbody.com/runwithcecilia.
332 calories; 3 g fat ( 2 g sat, 0 g mono); 47 g carb; 30 g protein; 7 g fiber
Mini Breakfast pizza
I don't know about you, but my kids will eat pizza any time of day, hot or cold. That's why this is a hit in our house.
1 whole wheat English muffin, split and toasted
1 egg scrambled
2 Tbs prepared marinara sauce
2 Tbs shredded cheese.
2 slices pepperoni, if desired
Preheat broiler or toaster oven. Coat nonctick pan with cooking spray over med-high heat. Add egg and cook until set into soft curd, stirring often, 1 – 2 minutes. Spread marinara sauce on English muffin and top with egg, cheese then pepperoni. Place under broiler or toaster oven until cheese melts, 1 – 3 minutes.
265 calories, 10 g fat (4 sat, 3 mono) 30 g  carbs, 5 g fiber, 16 g protein.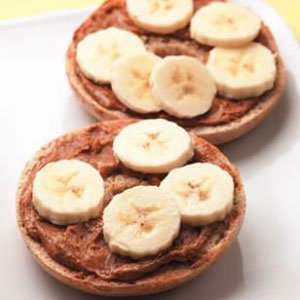 Bagel Gone Bananas
This takes less than 5 minutes to make and is a great balance of carbs, protein and fat. Now that's grab-and-go.
1 whole wheat bagel, split and toasted
2 Tbs natural nut butter, such as almond, peanut, cashew
1 tsp honey
1 small banana, sliced
In small bowl, mix nut butter with honey. Spread over toasted bagel halves and top with sliced banana.
284 calories; 10 g fat (1 g sat, 6 g mono) ; 44 g carbs; 6 g fiber; 8 g protein
Breakfast Parfait
With some vitamin-rich fruit and low-fat dairy you  and your kids will start the day nutritionally right.
3/4 cup low-fat cottage cheese or low-fat plain yogurt
1 cup pineapple chunks, papaya chunck, cling peaches or any fruit you like
2 tsp toasted wheat germ
Place low-fat cottaage cheese or yogurt into a bowl. Top with fruit and sprinkle with toasted wheat germ
247 calories, 3 g fat (2 g sat, 0 g mono); 40 g carbs; 3 g fiber; 20 g protein
Mini Crustless Quiches
The turkey sausage and sauteed muchrooms keep these light and savory. They are small and satisfying. They take a total time of 1 hour to prepare and cook but they are will worth it. I like to double the recipe and freeze some for those mornings that we are really short on time.
8 ounces turkey breakfast sausage, casing removed & crumbled into small pieces
1 tsp EVOO (extra virgin olive oil)
8 ounces mushrooms, sliced
1/4 cup scallions, sliced
1/4 cup shredded Swiss cheese
1 tsp freshly ground pepper
5 eggs
3 egg whites
1 cup 1% milk
Position rack in center of oven; preheat at 325F. Coat a nonstick muffin tin with cooking spray.
Heat a large nonstick skillet over med-high heat. Add turkey sausage and cook until browned, 6 – 8 minutes. Transfer sausage into bowl to cool. Add EVOO to skillet then add mushrooms. Cook mushrooms until brown, stirring often, 5 – 7 minutes. Transfer mushrooms to bowl with sausage. Let cool for 5 minutes. Add scallions, cheese and pepper and mix well.
In seperate bowl, whisk eggs and milk. Divide mixture among muffin tin. Sprinkle with heaping tablespoon of sausage mixture.
Bake 25 minutes or until tops just turn brown. Place on rack to cool for 5 minutes before removing from tin. After 5 minutes remove from tin and allow to cool completely.
Per quiche: 90 calories; 5 g fat (2 g sat, 1 g mono); 3 g carbs; 0 g fiber; 9 g protein
Apple – Oat Granola
We love this combination of this heart healthy granola, but feel free to substitute you favorite nuts or dried fruit for your own custom blend. This recipe takes about 1 1/2 hours including cooking time.
4 cups old-fashioned rolled oats
1/3 cup unsalted pumpkin and sunflower seeds
1/4 tsp salt
1 cup apple juice concentrate, thawed
1/4 cup pure maple syrup
1/2 cup water
1 Tbs canola oil
1/4 diced dried apples
1/4 cup dried cranberries and golden raisins
Preheat oven at 350F. Coat baking sheet with nonstick cooking spray. Combine oats, sunflower seeds and salt  in large bowl. Drizzzle with apple concentrate, syrup and oil and toss until evenly moistened. Spread onto prepared baking sheet. Bake for 30 to 35 minutes, stirring every 5 minutes. Remove from oven and transfer to a bowl. Toss with dried apples, cranberries and raisins. Cool completely.
Store in airtight container in frig for up to 1 week or freeze up to 2 months.
Per 1/2 cup serving: 222 calories; 6 g fat (2 g sat., 1 g mono); 40 g carbs; 4 g fiber; 5 g protein.
Quick Breakfast Taco
This breakfast taco is made with reduced-fat cheddar cheese and egg substitute is a healthy and satisfying breakfast. They will freeze well to serve later. And it takes only 15 minutes to make.
2 corn tortillas
1 Tbs salsa
2 Tbs reduced-fat Cheddar cheese
1/2 cup substitute egg, such as Egg Beater
Top tortilla wth salsa and cheese. Heat in microwave until cheese is melted, about 30 seconds. Meanwhile, coat nonstick skillet with cooking spray over medium heat. Add egg substitute and cook, stirring, until eggs are cooked through, about 90 seconds. Divide the eggs between the two tacos.
per serving: 153 calories; 2 g fat (1 g sat, 0 g mono); 15 g carbs; 0 g fiber; 17 g protein.