These are great to grab when your on the run, use for a pre-workout snack or have with some scrambled eggs or egg whites if you prefer for breakfast . It's the end to those rubbery low-fat muffins. The banana will make these moist yet fluffy.
1 cup whole wheat pastry flour
1/3 cup unbleached flour
2/3 cup wheat germ
1 1/2 tsp baking powder
1/4 tsp baking soda
1/2 tsp salt
3 Tbsp vegetable oil
3/4 cup mashed banana (1 banana)
1/4 cup light brown sugar
1/4 cup apricot jam
1 egg
1 egg white
1/3 cup fat-free milk
1/2 cup chopped dried apricots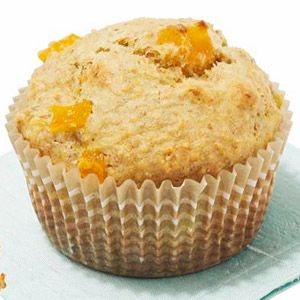 1. Line muffin pan with baking cups. Combine flour, wheat germ, baking powder, baking soda and salt. In another bowl combine oil, banana, sugar jam, egg, egg white, milk and apricots. Stir in flour mixture until just combined.
2. Fill cups 2/3 of the way; sprinkle with extra wheat germ. Bake at 350 until top spring back when touched, 22 to 24 minutes. Cool in pan for 5 minutes before removing.
Makes 12 muffings. Each muffin is 170 calories, 4.5 total fat, 0.5 saturated fat, 171 mg sodium, 28 g carbs, 18 mg chol, 5 g protein, 2 g fiber.