Ingredients
4 ounces chicken breast, boneless/skinless, cut into strips
3 to 4 large shrimp, whole, cleaned & tails removed
1/4 cup water chestnuts, Sliced
2 tbsp slivered almonds
2 tbsp green onions, sliced
1 tbsp each minced ginger root & garlic
2 tbsp lime juice
1 tsp orange juice
1 tsp reduced-sodium soy sauce
2 cups watercress, remove bottom 2 inches
1 cup spinach, Cleaned
1/2 cup bean sprouts
2 Tsp sesame oil
non-stick cooking spray
Preparation
Heat a nonstick skillet coated with nonstick cooking spray over medium heat.
Add green onion, garlic, ginger root and saute for 1 minute.
Add chicken and stir-fry 3 to 4 minutes, until the chicken is almost done.
Add the lime juice, orange juice, soy sauce, slmonds and water chestnuts and bring to a simmer.
Add shrimp and cook for an additional 2 minutes or until shrimp is done.
Remove mixture from pan and add sesame oil to pan and heat over medium high heat.
Add watercress, spinach and bean sprouts and saute 4 to 5 minutes.
Place asian greens on plate & cover with chicken & shrimp mixture.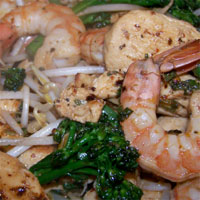 Nutrition Facts
Servings Per Recipe: 1
* Calories 370
* Total Fat (g) 18
* Saturated Fat (g) 1
* Cholesterol (mg) 10
* Sodium (mg) 90
* Carbohydrate (g) 17
* Protein (g) 37
* Percent Daily Values are based on a 2,000 calorie diet